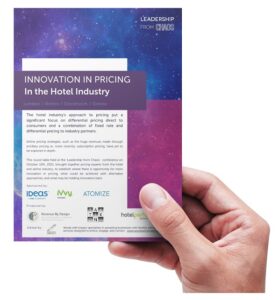 The hotel industry's approach to exploring less traditional pricing strategies has been, at best, cautious.
With subscription based pricing integral to consumers relationships with such retailers as Netflix and Amazon Prime, and ancillary pricing models generating huge revenues for airlines, hotels have yet to explore more experimental pricing strategies with any great commitment.
Why is this? What commercial benefits are left untapped by the seeming reluctance to have a more creative approach to pricing? And where is the future of pricing heading?
We used the 'Leadership from Chaos' conference in October 2021, to bring together eight pricing experts from the hotel and airline industry to explore pricing. Their discussion is covered in this free thought leadership white paper, 'Innovation in Pricing in the Hotel Industry'. Areas discussed include
– What is Subscription Pricing and how can it benefit the guest and hotel?
– Is personalised pricing a reality, how will it materialise, and do we have the technology to cope with it?
– What data points should we be looking at post pandemic?
– Where do you predict the role of the revenue manager heading?
Download your copy of 'Innovation in Pricing in the Hotel Industry' here or watch the discussion here
With thanks to our sponsors IDeaS, Atomize, and iVvy and our panellists Guy Barnes, Area VP Growth EMEA, IDeaS; Heather Hart, Meeting and Event Eevenue Specialist representing iVvY; Daniel Coupe, Regional Revenue Director, Lore Group; Michael McCartan, Chief Growth Officer, Atomize; Oliver Ranson, Airline Pricing Expert, Ranson Associates; Sharad Kapur, Consultant, Estilo Hospitality; Darren Lyko Edwards, Commercial Director, Sleeperz Hotels; Olga Sommer, Director of Revenue, Nobu Portman Square Hotel